Viewings
At Mulapa Aboriginal Art, we stock a range of artists from the Central, Eastern and Western Desert, Northern Territory. We feel privileged to be able to work with the art centres and represent their artists in Sydney. All our art works have been ethically sourced.
Private Viewings
Private viewings are only available during the summer months from November to April. The rest of the year Judi now lives in Alice Springs, this makes home viewing difficult. If you see something that takes your fancy, Judi can often organise commissions according to size and colour palette you may wish. Email her and have a chat!
Judi is passionate about Aboriginal art and keen to share her knowledge of the stories of the art and the ethics of buying and selling. Judi can provide private or group viewings by appointment only at a time to suit. To arrange a viewing contact Judi
No obligation to buy. But if you love any of the pieces, then you'll find that the prices are very reasonable. You'll also know that your purchase will support the artist and their community
If you see something at the viewing that you like we are happy for you to take the work home for up to 48 hours to see how it fits into your surroundings. In return we ask for your credit card details as security.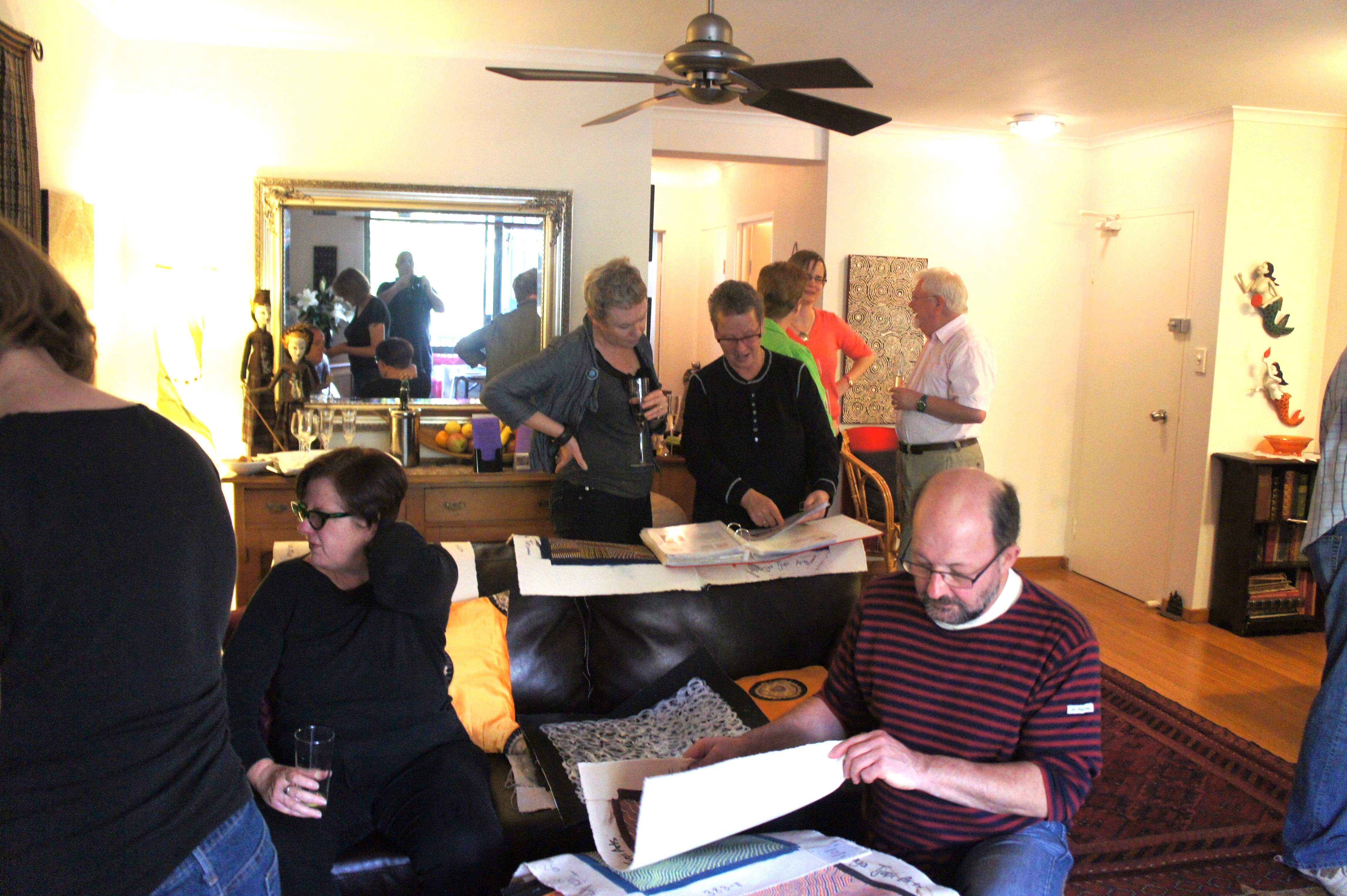 Some of the Artists currently in stock include:
From Warlukurlangu:
Judy Napangardi Watson
Shanna Napangka Williams
Christine Napanagka Curtis
From Papunya Tula:
RubiLee Napurrula
Pantjiya Nungurrayi
Maisie Campbell Napaltjarri
Edith Nampitjinpa
Sam Tjapanangka
From Uotopia:
Kevin Bird
Carmen Dixon
Mary Morton
Sacha Long
Tanya Bird
From Alice Springs:
Gloria Petyarre
Charmaine Pwerle
Doreen Nakamarra Dickson
Janet Golder
Colleen Wallace
Margaret Scobie
Belinda Golder
Doreen Dickson Nakamarra
On Line Sales
We have a sample from our stock available to view on this site but we have made a decision not to sell on line for the moment. The main reason for this is that we believe that the art is not truly represented on a computer screen. The colours and texture of many art works can not be adequately reproduced by a computer. People often get a shock when they see the actual artwork because its colours can look so different.
If you wish to view our stock, you can arrange a free viewing at Judi's home or she will bring works to your home.
Sourcing Specific Art Works
If you are searching for a work by a particular artist we may be able to help you find that special piece. We have excellent working relationships with the art centres and can source art works from them in specific sizes, colours or by specific artists. Talk to Judi to discuss your specific needs.