Ethics



ETHICAL BUYING and ETHICAL CHALLENGES
The two ethical challenges when buying Australian Aboriginal art are
authenticity and fair treatment of the artists.
Storing paints at Warlukurlangu, the art centre in Yuendemu
Authenticity
Sadly, not all "Indigenous" art is authentic. An Aboriginal person other than the attributed artist may have painted some pieces and a non-Aboriginal person may even have painted some. To establish authenticity you need to know details about the artwork's provenance (where it came from).
A photograph of an Aboriginal person holding a painting, or even sitting beside a work in progress, does not guarantee that that person created the artwork.
A Certificate of Authenticity (COA) is a written record of the claimed provenance. It often includes cultural information, the story depicted in the painting and biographical details of the artist. A COA is not a guarantee of authenticity - its value depends on the reputation of the centre/gallery that issued it. If you wish to resell, especially to resell a "collectable" artwork, a reputable COA is usually needed to recoup your purchase price and benefit from any increase in value.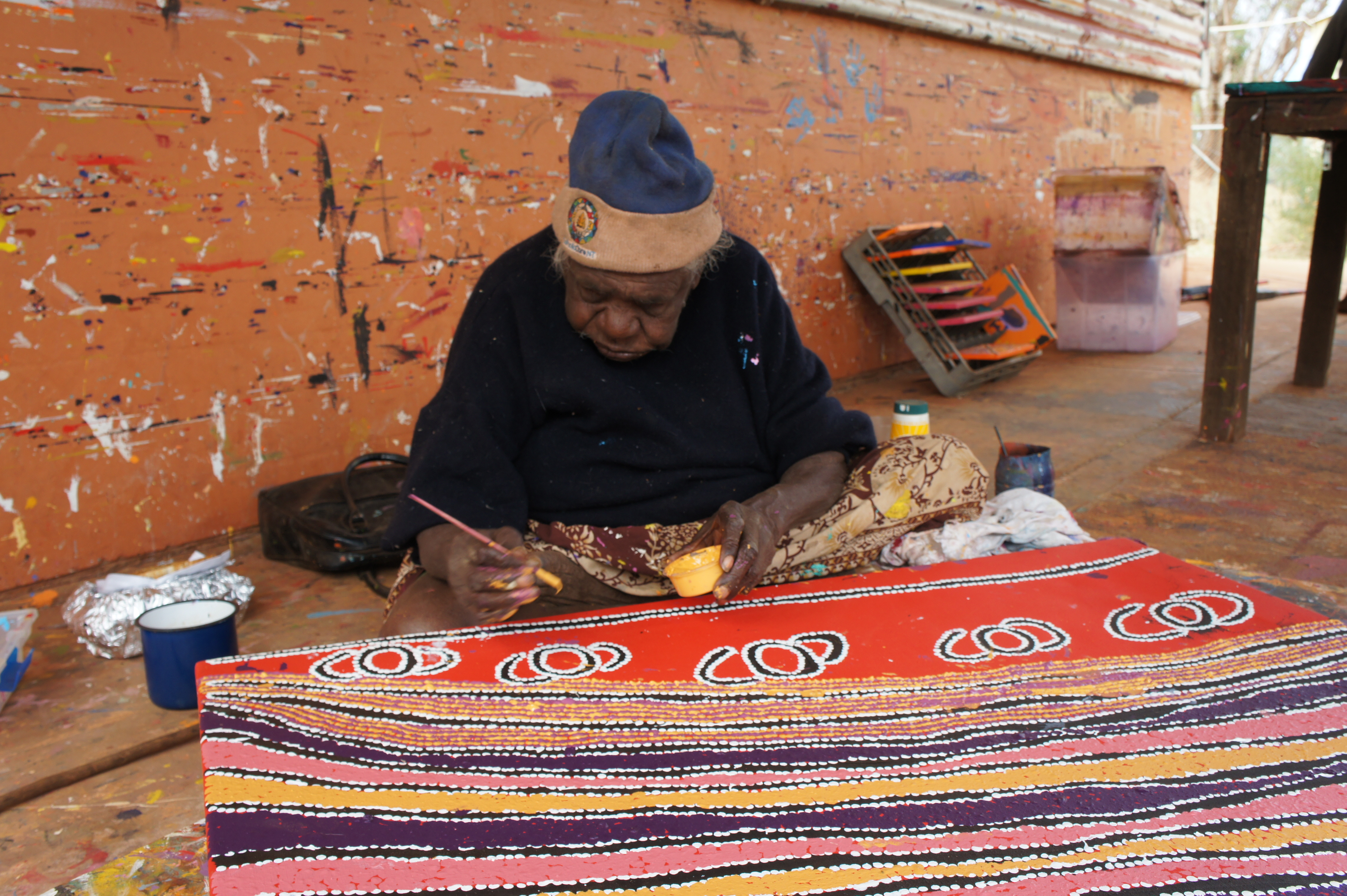 Liddy Walker painting at Yuendemu
Fair Treatment of Artists
There have been reports of unfair treatment of Aboriginal artists, such as poor work conditions, coercion to paint, taking advantage of the artist's financial need or lack of cross-cultural understanding, insufficient payment and long delays in payment. For example, many people have heard about "carpetbaggers", that is, individuals who pay artists a pittance for their work and then sell the pieces on the art market for thousands of dollars. This scenario was well depicted in the movie Samson and Delilah.
In response to reports of unscrupulous conduct and unfair treatment of Indigenous artists, the Australian government held a Senate inquiry in 2007. Its key recommendation was the introduction of an Indigenous Australian Art Commercial Code of Conduct. The code was released in July 2010 and Mulapa Aboriginal Art is a signatory.
Some people argue that the safest approach to protect Indigenous artists is to only acquire artworks from community-based art centres. These centres are mostly based in remote communities. They are generally community-owned and managed, often with non-Indigenous managers who are employed by the community because they have the training and experience to manage the centre, to support the artists in developing their skills, and to promote the art in Australia and overseas.
Many of the art centres are community meeting places where artists attend when they wish to paint, chat and enjoy a good lunch. All materials (canvases, paints, brushes, etc.) are provided. The art centres support both individual artists and their communities.
In the process of setting up Mulapa Aboriginal Art we have talked and argued long and hard about how to support fair treatment of Aboriginal artists. Our current position is that we will primarily source artworks from Aboriginal-owned art centres. However, we have visited some "painting sheds" and personally observed the care and fair treatment that some independant agents/dealers are providing for the artists who choose to paint with them. We will carry selected artworks from one or two private centres, but only when we are confident that the artist has received fair treatment in the production of, and payment for, their work, as outlined in the Code of Ethics.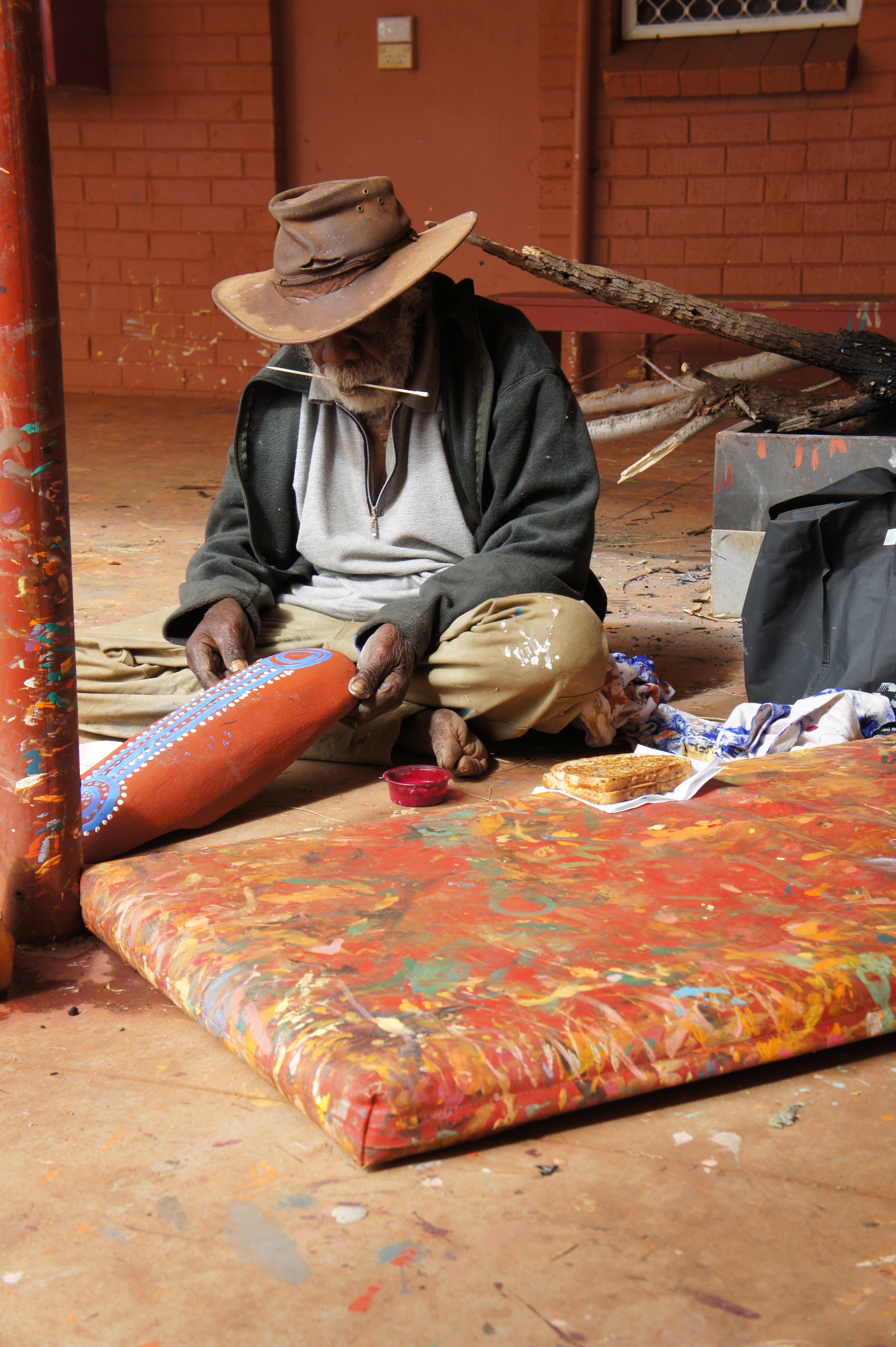 Shorty Jangala Robertson painting at Warlukurlangu
References
Arts NT (Northern Territory Government) & ANKAAA (Association of Northern Kimberley and Arnhem Aboriginal Artists) (2005) Purchasing Australian Aboriginal Art. A Consumer Guide.
Australian Competition & Consumer Commission, Commonwealth of Australia (2007) Unconscionable conduct in the Indigenous art and craft sector.
Australian Competition & Consumer Commission, Commonwealth of Australia (2007) Your Consumer Rights: Indigenous Art and Craft.
Indigenous Art Code Limited (2010) Indigenous Australian Art Commercial Code of Conduct www.indigenousartcode.org
Miller, C. (2010) Ethically sourcing Indigenous art and how to be certain of provenance. Australian Art Collector, Guide to Indigenous Art Centres and How to Ethically Collect Indigenous Art.